Sand Scarab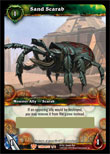 Card:
Sand Scarab
Expansion:
Tomb of the Forgotten
Rarity:
1/11 booster packs
Sand Scarab
Binds when picked up

Use: Teaches you how to summon this companion.
Remember the great many [Sand Scarab]s from Zul'Farrak that made AOE fun? Well, now you can have fun with the common pet card from the WoW TCG Loot expansion. You can now have your own Zul'Farrak sand scarab to be your companion on your adventures across Azeroth. There's no need to stay in the deserts of Tanaris or Uldum to make friends jealous with your beautiful scarab when you can bring the fun to them.
Purchase: