How WoW Loot Cards Work
Loot cards are rare versions of the World of Warcraft trading card game (TCG) cards which also contain a scratch-off code. These loot codes are entered into the World of Warcraft promotion website to redeem unique in-game items, such as a pets, mounts, tabards, and many other items. WoW loot cards are very rare and in high demand since they supply your character with items that will make others look twice and wonder where you got it from.
The best deals on these rare WoW loot cards are found on eBay. You will always find the latest and cheapest for bidding or purchase below.
All WoW Loot Cards by Expansion
About the Worldbreaker Expansion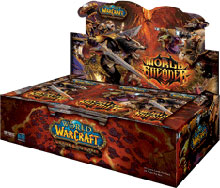 Released in December 2010, Worldbreaker, the thirteenth set from the WoW TCG franchise for Blizzard changes the mixture of normal for the TCG game by introducing new powers for races, as Blood Elves become warriors, dwarves master the art of mage. Heroes such as Ysera and Alexstraza make an appearance as Deathwing returns to wreck havoc. And, in this 270 card expansion one cannot forget about the new Cataclysm allies, the Goblin and the Worgen heroes joining the game.
As always, it has three new exciting loot cards: