How WoW Loot Cards Work
Loot cards are rare versions of the World of Warcraft trading card game (TCG) cards which also contain a scratch-off code. These loot codes are entered into the World of Warcraft promotion website to redeem unique in-game items, such as a pets, mounts, tabards, and many other items. WoW loot cards are very rare and in high demand since they supply your character with items that will make others look twice and wonder where you got it from.
The best deals on these rare WoW loot cards are found on eBay. You will always find the latest and cheapest for bidding or purchase below.
All WoW Loot Cards by Expansion
About the Icecrown Expansion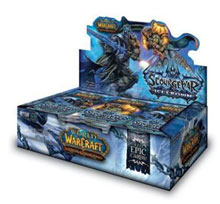 Released in September, 2010 the twelfth set from the WoW TCG franchise for Blizzard finalized the class cards of hunter, mage, and shaman in the Scourgewar block as well as long loved Azerothian heroes such as Jaina Proudmoore and Warchief Thrall. Being Cryptozoic's second TCG launch this added another exciting 220 cards to the game. With this set, the scourge quasi faction and new master hero, the Lich King himself are introduced.
As always, it has three new exciting loot cards: