How WoW Loot Cards Work
Loot cards are rare versions of the World of Warcraft trading card game (TCG) cards which also contain a scratch-off code. These loot codes are entered into the World of Warcraft promotion website to redeem unique in-game items, such as a pets, mounts, tabards, and many other items. WoW loot cards are very rare and in high demand since they supply your character with items that will make others look twice and wonder where you got it from.
The best deals on these rare WoW loot cards are found on eBay. You will always find the latest and cheapest for bidding or purchase below.
All WoW Loot Cards by Expansion
About the Wrathgate Expansion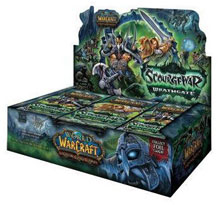 After the depature of Upper Deck from the WoW TCG series, Cryptozoic has taken over the WoW Trading Card Game. Introducing "Wrathgate" as its launch expansion, this new expansion marks the eleventh set in the franchise for Blizzard. The new cards feature a new look for the cards, as well as featuring a number of Warcraft lore heroes like Highlord Tirion Fording and many new Wrathgate materials that will allow you to craft new armor and weapons for your heroes to do battle with.
As with every new expansion from the WoW TCG series, they have also included 3 new loot cards with the expansion with increased "drop chances" out of the booster packs, which is a nice improvement over their predecessors. Up for grabs this time around we have the: