Grim Campfire
Card:
Grim Campfire
Expansion:
Worldbreaker
Rarity:
1/132 booster packs
Grim Campfire
Binds when picked up

Use: Builds a grim campfire that isn't going to increase anyone's spirit. In fact, it may creep them out a bit. It does allow cooking, though. (5 Min Cooldown)
The fact that only role players use campfires is untrue. People use campfires just to use them, to cook, and to sit by while waiting for someone or something. The [Grim Campfire] changes everything you know about the campfire by introducing a skull campfire with bluish purple flames. With the new bluish purple grim fire one could cook to create an extra haunted meal. The Grim Campfire is the rare quality loot from the Worldbreaker expansion.
Purchase: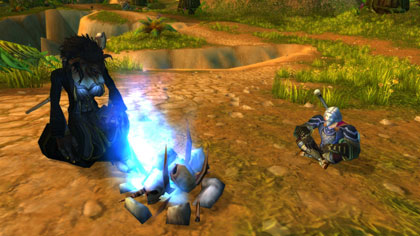 About the Worldbreaker Expansion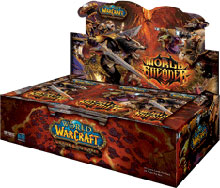 Released in December 2010, Worldbreaker, the thirteenth set from the WoW TCG franchise for Blizzard changes the mixture of normal for the TCG game by introducing new powers for races, as Blood Elves become warriors, dwarves master the art of mage. Heroes such as Ysera and Alexstraza make an appearance as Deathwing returns to wreck havoc. And, in this 270 card expansion one cannot forget about the new Cataclysm allies, the Goblin and the Worgen heroes joining the game.
As always, it has three new exciting loot cards: