Mottled Drake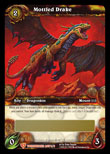 Card:
Mottled Drake
Expansion:
Worldbreaker
Rarity:
1/264 booster packs
Mottled Drake
Unique
Mount
Requires Level 60
Requires Expert Riding
Item Level 60

Use: Teaches you how to summon this mount. This is a flying mount.
The Mottled Drake is the final and the rarest loot card from the Worldbreaker TCG expansion. The [Mottled Drake] is an allied dragonkin that allows one to fly on his back across the skies of Azeroth. The Mottled Drake brings in verity from the past, by introducing a new lovable dragon mount. Players cannot seem to get enough of dragons, and the Mottled Drake is another to add to the collection. Instead of having a solid color as their scales look with a common belly, the Mottled Drake introduces a multi colored drake, by having green mottled spots across its scales.
Purchase: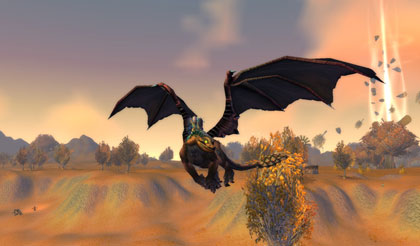 About the Worldbreaker Expansion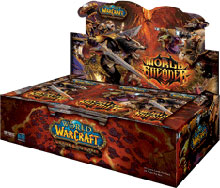 Released in December 2010, Worldbreaker, the thirteenth set from the WoW TCG franchise for Blizzard changes the mixture of normal for the TCG game by introducing new powers for races, as Blood Elves become warriors, dwarves master the art of mage. Heroes such as Ysera and Alexstraza make an appearance as Deathwing returns to wreck havoc. And, in this 270 card expansion one cannot forget about the new Cataclysm allies, the Goblin and the Worgen heroes joining the game.
As always, it has three new exciting loot cards: