Landro's Lil' XT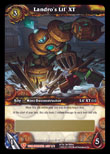 Card:
Landro's Lil' XT
Expansion:
Worldbreaker
Rarity:
1/11 booster packs
Landro's Lil' XT
Binds when picked up
Unique

Use: A near-perfect, goblin-manufactured knockoff of the Wonderworks original.
The Worldbreaker expansion changes everything. The popular consumable that was the common card is now a non-combat vanity pet! This little fella is your own exclusive [Landro's Lil' XT]! Learnt like any other vanity pet from previous expansions, but, this little fella isn't a consumable and he's here to stay! He is a recolored version of Lil' XT making him a desirable pet for collectors. Landro's Lil' XT will work like his cousin and be ready to smash trains and shout some classic lines about toys.
Purchase: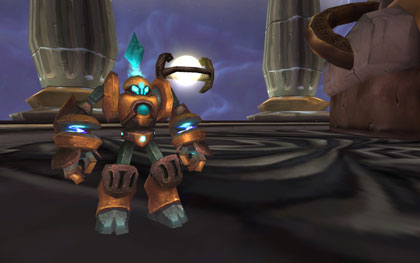 About the Worldbreaker Expansion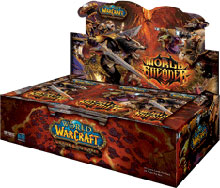 Released in December 2010, Worldbreaker, the thirteenth set from the WoW TCG franchise for Blizzard changes the mixture of normal for the TCG game by introducing new powers for races, as Blood Elves become warriors, dwarves master the art of mage. Heroes such as Ysera and Alexstraza make an appearance as Deathwing returns to wreck havoc. And, in this 270 card expansion one cannot forget about the new Cataclysm allies, the Goblin and the Worgen heroes joining the game.
As always, it has three new exciting loot cards: