Throwing Starfish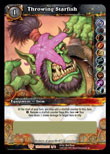 Card:
Throwing Starfish
Expansion:
Throne of the Tides
Rarity:
1/132 booster packs
| | |
| --- | --- |
| Use: Create 5 Throwing Starfish. (30 Min Cooldown) | |
| | |
Throwing Starfish
Binds when picked up
Unique (5)

Use: Hurl a harmless starfish at a friend's face.



Throne of the Tides WoW TCG expansion does not disappoint with the rare quality loot from the expansion... a in-game tradeable [Sack of Starfish]! The subsequently conjured Throwing Starfish can be thrown at your friends or enemies. Stop playing with the paper planes, time to use the real stuff, Starfish! What's more fun then throwing a starfish at someone's face? Not much. With this item you can travel across Azeroth summoning new starfish for an endless supply to harass play with friends.
Purchase: