Slashdance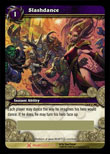 Card:
Slashdance
Expansion:
Drums of War
Rarity:
1/11 booster packs
Party G.R.E.N.A.D.E.
Binds when picked up

Use: Starts a dance party.




"Goblinoid Resonant Electro-Neural Automatic Dancing Emitter"
The [Party G.R.E.N.A.D.E.], obtained from the loot card "SlashDance", awards your character with a stack of 100 grenades that when used will make any character in your targeting reticle dance in an explosion of streamers and confetti. This item is twink friendly, so while you're playing around in Warsong Gulch, try running into a group and tossing one! While these loot cards will run you about $1-$3 USD using the "Buy It Now" option, bidding is a simple $0.99 cent option also! Plus, as a bonus, these fun little tools stack to a total of 250.
Purchase: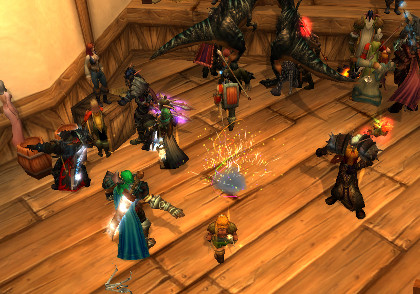 About the Drums of War Expansion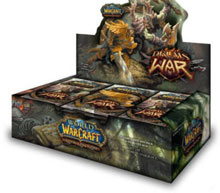 Releasing November 2008, the Drums of War were thundering loudly to announce the arrival of 268 new cards to strengthen your deck! The new Location cards are featured in this WoW TCG expansion as the location cards give your deck the ability to use resources from the most famous places in the World of Warcraft.
While a WoW TCG expansion wouldn't be an expansion without loot cards, here we have our 3 newest loot cards, in order of ascending rarity: