Owned!
Card:
Owned!
Expansion:
Drums of War
Rarity:
1/132 booster packs
The Flag of Ownership
Binds when picked up

Use: Place a flag on an enemy player's corpse in front of you. (1 Min Cooldown)
Owned! The name says it all when you look at it, but the item you get is much greater. Ever think for just a moment, that you can make the player that you just mercilessly killed feel even worse? Well, now you can plant [The Flag of Ownership] showing your dominance after that awesome killing blow with only 5 health remaining. The flag has a cooldown and duration of 60 seconds, which gives you plenty of time to kill more people for its next use. As if it needed any more to help the embarrassment for the dead player, it also creates an emote that says "<Your character name> has placed the flag of ownership in <Enemy> corpse", along with a special sound effect. For a mere $50-$60 USD, this twink friendly item can be purchased using the "Buy It Now" option or can be bid on for around $10-$45 USD!
Purchase: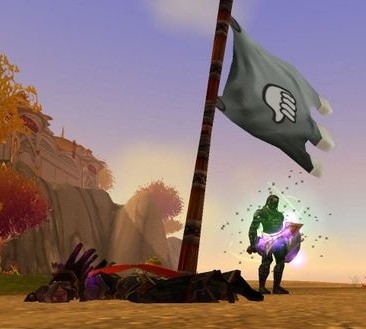 About the Drums of War Expansion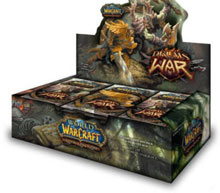 Releasing November 2008, the Drums of War were thundering loudly to announce the arrival of 268 new cards to strengthen your deck! The new Location cards are featured in this WoW TCG expansion as the location cards give your deck the ability to use resources from the most famous places in the World of Warcraft.
While a WoW TCG expansion wouldn't be an expansion without loot cards, here we have our 3 newest loot cards, in order of ascending rarity: