Disco Inferno!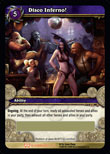 Card:
Disco Inferno!
Expansion:
Hunt for Illidan
Rarity:
1/132 booster packs
D.I.S.C.O.
Binds when picked up

Use: Right Click to start the dance party. (5 Min Cooldown)




"Dancer's Integrated Sonic Celebration Oscillator"
Disco Inferno, a fun, group use item, is the type that will have your friends asking to use your disco ball all the time! Except now, they won't accidently leave it plugged in and burn down your house. No, this fun little loot card gives one of your characters the [D.I.S.C.O.] item, which creates a small box with a disco ball with mirror effect. Upon right clicking, which is performable by either faction, the player gains the buff "Listening to Disco" and proceeds to /dance. This twink friendly item, should you want to shock and awe your friends, will run you near $40 to $50 USD using the "Buy It Now!" feature, and bids normally are around $20-$32 USD.
Purchase:
About the Hunt for Illidan Expansion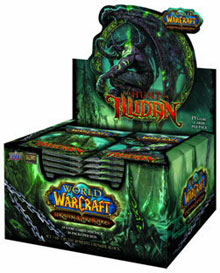 Released in July of 2008, The Hunt for Illidan is the final in a sub-series of 3 WoW TCG expansions following the storyline for The Burning Crusade. Introducing 252 cards to the WoW trading card game, The Hunt for Illidan also introduced Demon Heroes, as well as more rewards for those "Loyal" heroes that weren't traitors from "Servants of the Betrayer". So, what would a WoW TCG expansion be like without loot cards, right?
Well, we have all the juicy information of them right here in ascending order of rarity: