Ethereal Plunderer
Card:
Ethereal Plunderer
Expansion:
Hunt for Illidan
Rarity:
1/264 booster packs
Soul-Trader Beacon
Binds when picked up

Use: Teaches you how to summon this companion.
The final loot card for "Hunt for Illidan" happens to be the Ethereal Plunderer which awards any ONE of your characters with the [Soul-Trader Beacon] item, which counts as a NPC-Pet/Companion. The special thing about this "pet" is that it also acts as a very special vendor. The currency is, of course, Souls or Ethereal Credit, which can only be cashed in to the vendor. The unique feature of the Ethereal Trader is the items it sells. An item that allows you to detect invisibility, a npc-pet mutating item that will keep the pet mutated for as long as it follows its owner, Ethereal Liquor and a Ethereal Essence Sphere which acts like the Heavy Leather Ball items or their "play catch" brethren. The main items of interest are the gear items that it sells. With no statistical value other than the amount of bragging rights, this Ethereal happens to sell the clothing to make your character look surprisingly similar to this otherworldly companion. While this is the rarest card in "The Hunt for Illidan" expansion, you can expect to pay around $300 USD or more, but with the bidding system, it's easier to find one that is somewhere around $200 and $300 USD.
Purchase: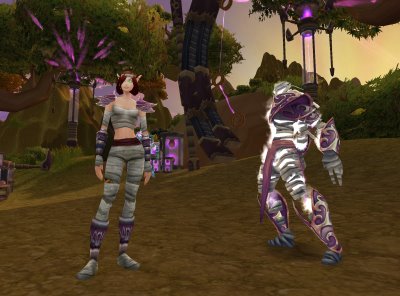 About the Hunt for Illidan Expansion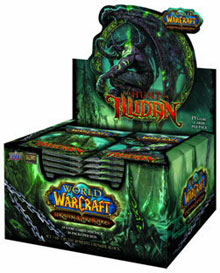 Released in July of 2008, The Hunt for Illidan is the final in a sub-series of 3 WoW TCG expansions following the storyline for The Burning Crusade. Introducing 252 cards to the WoW trading card game, The Hunt for Illidan also introduced Demon Heroes, as well as more rewards for those "Loyal" heroes that weren't traitors from "Servants of the Betrayer". So, what would a WoW TCG expansion be like without loot cards, right?
Well, we have all the juicy information of them right here in ascending order of rarity: