Papa Hummel's Pet Biscuit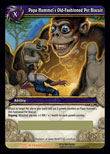 Card:
Papa Hummel's Pet Biscuit
Expansion:
Servants of the Betrayer
Rarity:
1/11 booster packs
Papa Hummel's Old-Fashioned Pet Biscuit
Binds when picked up

Use: Doubles a targeted Non-Combat Pet's size for as long as it remains at its master's side.
This twink friendly loot card, once redeemed, provides your character with a total of 50 of [Papa Hummel's Old-Fashioned Pet Biscuits], an item that increases the size of your non-Combat pets within a 15 yard range. This card happens to be a SUPER-common loot card, where every 1 out of 11 booster packs is said to contain one. But if course, if you don't feel like buying the booster packs yourself, you can easily obtain one on eBay using the "Buy It Now!" service for around $7-$10 USD and a mere $2-$3 using the bidding system.
Purchase: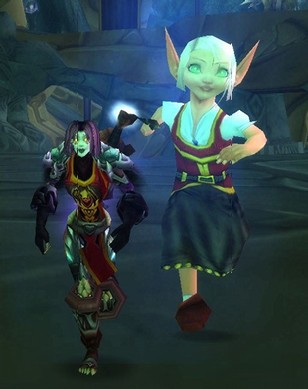 About the Servants of the Betrayer Expansion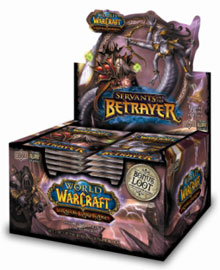 Releasing in April of 2008, the Servants of the Betrayer expansion is one the expansion to delve deep into the stories, minions and generals of Illidan followers Kael'thas Sunstrider and Lady Vashj and second in a series of 3 expansions dealing with The Burning Crusade. This expansion introduced a total of 264 cards into the WoW TCG and introduced Traitor Heroes and more reasons to side with Aldor or Scryer... and of course, 3 luscious TCG loot cards!
In ascending order of rarity, the WoW TCG loot cards included in Servants of the Betrayer are: