El Pollo Grande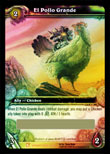 Card:
El Pollo Grande
Expansion:
Fields of Honor
Rarity:
1/264 booster packs
Magic Rooster Egg
Unique
Mount
Requires Level 40
Requires Journeyman Riding
Item Level 40

Use: Teaches you how to summon this mount.
Magic Rooster
1.5 sec cast

Summons and dismisses a rideable Magic Rooster. No, seriously.
The El Pollo Grande comes from an old enemy that is still in the game, though few know of its existence. The giant chicken itself comes from a warlock quest when they are learning to summon their Infernal. It falls from the sky, and players are supposed to kill this giant rooster named, of course, El Pollo Grande. Well, developers must have decided the big rooster wasn't ready to leave because with this TCG loot card, you can get the [Magic Rooster Egg]! This item gives you a very fast magic rooster mount. It crows and scratches just like a real life rooster and even clucks for its "Mount Special" effect (when you push the space bar while standing still). While you only get an epic version of this mount, it still does count towards your "Mountain o' Mounts" achievement. Looking to buy this with us? Well, if you use the "Buy It Now" feature, you can get it for around $220-$250 pesos-I mean dollars! But, when bidding, it will range from $130 to $200 USD as well!
Purchase: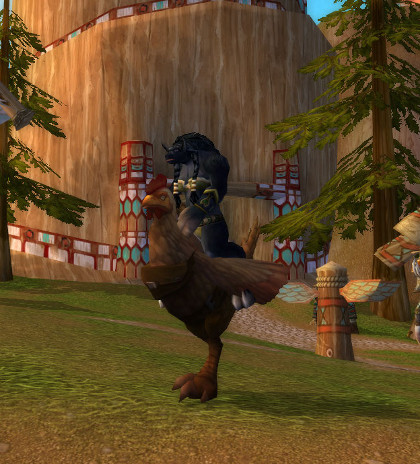 About the Fields of Honor Expansion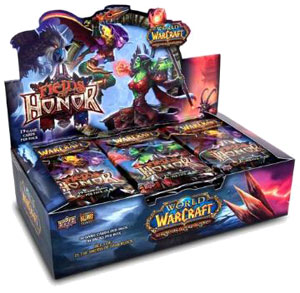 Released on June 30th, 2009, the Fields of Honor expansion ushered in a total of 208 new cards for all of your playing pleasure, including new battlegrounds, locations and even more racial traits to strengthen your heroes with.
The three loot cards, in ascending order or rarity are as follows: