Spectral Kitten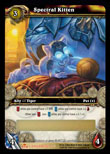 Card:
Spectral Kitten
Expansion:
Scourgewar
Rarity:
1/264 booster packs
Spectral Tiger Cub
Binds when picked up

Use: Teaches you how to summon this companion.
The Spectral Kitten is a sleek pet put into the game for the players who want their special feline, but weren't lucky enough to find or obtain a Spectral Tiger mount. While active, this cute [Spectral Tiger Cub] will follow you endlessly. But, if you happen to be busy fighting, auctioning or just away from your keyboard, it will also sit down and wait for you to move. Once you do, don't worry if it doesn't follow right away...he will soon catch up using his amazing spectral speed in no time! When clicked, the kitten releases a special kitten version of the Spectral Tiger roar. This pet is twink friendly and due to its other worldly nature, it will cost around $140 to $160 USD using our "Buy It Now" option. But again, if bidding is your pleasure, auctions tend to start around $110 and are seen at $120 as well!
Purchase: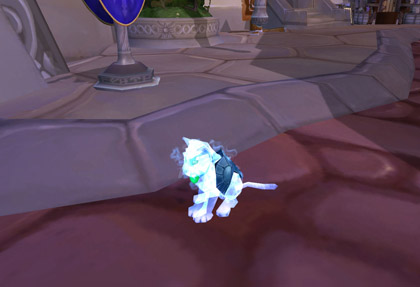 About the Scourgewar Expansion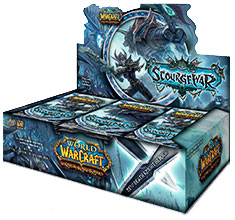 Releasing in November of 2009, Scourgewar is one of the final WoW TCG expansions of the decade. This expansion brings in a total of 270 cards to the playing field along with classes and race/faction favorite classes and new class specific quests. This is also the first set to fully integrate the Death Knight class into the WoW TCG. It is also the first to bring in Mounts as an available attachment to your heroes.
But, as always, it also has three new loot cards (In order of ascending rarity):