Corrupted Hippogryph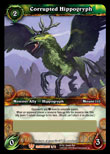 Card:
Corrupted Hippogryph
Expansion:
Crown of The Heavens
Rarity:
1/264 booster packs
Corrupted Hippogryph
Unique
Mount
Requires Level 20
Requires Apprentice Riding

Use: Teaches you how to summon this mount. This is a flying mount.
Landro Longshot is back in the flying mount business with the one of a kind [Corrupted Hippogryph]! The Corrupted Hippogryph is the final and rarest loot card from the Crown of The Heavens TCG expansion. Hippogryphs are known far and wide across all of Azeroth as a steady and loyal steed for Alliance players... But, Landro is bringing it to both factions now! This mount has an exotic look... of a dark olive color which brings a unique color to mounts unlike no other seen across Azeroth. Retake the sky with Deathwing's demise with new hope... Of a Dark Olive Hippogryph.
Purchase: