Bloat the Bubble Fish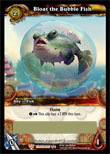 Card:
Bloat the Bubble Fish
Expansion:
Throne of the Tides
Rarity:
1/11 booster packs
Purple Puffer
Binds when picked up
Unique

Use: Teaches you how to summon this companion.
The common loot card of the Throne of the Tides expansion is the [Purple Puffer]. This new non-combat mini-pet brings a new verity of pets to the game. It basically is a fish out of the water, literally! This little fella will float around with you being your trusty fish to keep all of your secrets in its own floating ball of water. Even though the new mini-pet is a fish, it is safe to bring with even to the hottest zones alongside Deathwing due to being in a sustainable bubble of water. The sea creatures are coming to the land!
Purchase: