Dark Portal Hearthstone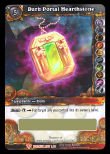 Card:
Dark Portal Hearthstone
Expansion:
Betrayal of the Guardian
Rarity:
1/132 booster packs
Dark Portal
Binds when picked up

Use: Returns you to <Hearthstone Location>. Speak to an Innkeeper in a different place to change your home location. (30 Min Cooldown)




"BEHOLD, THE DARK PORTAL. Well, a tiny version, at any rate."
Purchase:
| Buy It Now | S&H | Qty | Origin | Ending |
| --- | --- | --- | --- | --- |
| $745.00 USD | $0.00 | 1 | US | 6 days 23 hours |
| Bids | S&H | Qty | Origin | Ending |
| $202.50 USD | $4.99 | 1 | US | 1 day 21 hours |