Center of Attention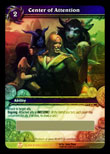 Card:
Center of Attention
Expansion:
Blood of Gladiators
Rarity:
1/132 booster packs
Epic Purple Shirt
Binds when picked up
Shirt

Use: Be the center of attention. (10 Sec Cooldown)
The Center of Attention card offers you a [Epic Purple Shirt] upon redeeming this loot card. This shirt is usable by all levels and it's the first epic quality shirt to make it into the game. While a twink with an epic shirt may not be too intimidating, the fact that when it is used, it will make your character sparkle a bit and /flex, showing off your amazing skill. Who wants to mess with that? Well, if you are sold on buying this shirt, when you use "Buy It Now!" it should cost somewhere around $40 and $50 USD. But if you're looking to bid on it, good luck, because it hasn't been in an open auction for some time.
Purchase: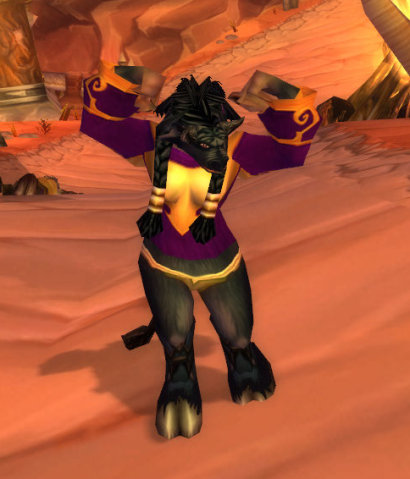 About the Blood of Gladiators Expansion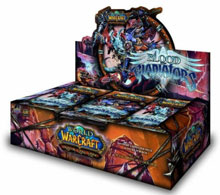 Released in March of 2009, the Blood of Gladiators expansion introduces 208 cards along with arena cards and even more equipment to make your heroes even stronger. But while equipment and arenas are nice, the topping of the cake are the racial cards that allow you to bring the most out of your heroes. Combine that with 3 very cool loot cards and you have an expansion that is very much welcomed into the wow trading card game.
In order of ascending rarity, the loot cards are as follows: