Kiting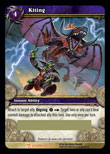 Card:
Kiting
Expansion:
March of the Legion
Rarity:
1/363 booster packs
Dragon Kite
Binds when picked up

Use: Teaches you how to summon this companion.
Finally, as an ode to an ancient boss tactic of the vanilla WoW days, the WoW TCG introduces Kiting. Once redeemed, the loot code for Kiting gives your character the [Dragon Kite]. This being the rarest tcg loot card in "March of the Legion", it's no surprise that this twink friendly card can cost $240-$250 USD or more using the "Buy It Now" feature. Again, if you would rather wait it out and use the bidding system, you are still looking to pay anywhere from $120 to $130 USD. Those prices are great considering what this piece of eye candy does! It is a companion pet for your character. Upon use, the Dragon Kite will follow your character around whilst tied to a string. Occasionally, a bolt of lightning will strike the kite and follow the string down to give your character a little zap which occurs more in rainy conditions. Though harmless, it's still shocking to see! Every use brings out a new color to choose from (Red, Purple, Green and Blue), and for an added effect, why not try giving it to a druid to use during flight form, or using it while riding the Deeprun Tram or The Great Lift?
Purchase:
| Buy It Now | S&H | Qty | Origin | Ending |
| --- | --- | --- | --- | --- |
| $79.99 USD | $0.00 | 1 / 184 | CN | 6 days 23 hours |
| $74.38 USD | $14.88 | 2 / 2 | CA | 6 days 23 hours |
| $80.44 USD | $58.99 | 1 | IT | 6 days 23 hours |
| Bids | S&H | Qty | Origin | Ending |
| $0.99 USD | $0.00 | 1 | US | 2 days 2 hours |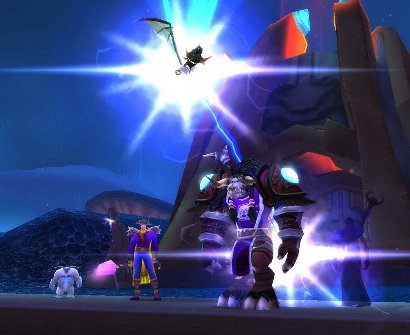 About the March of the Legion Expansion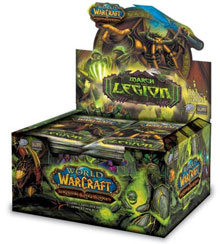 Releasing in December of 2007, the fourth installment to the WoW Trading Card Game is the "March of the Legion" expansion. Bringing to the game a total of 319 cards, hosting 18 new heroes, along with 205 commons and uncommon, it also has 18 rare cards and 16 epics along with the 3 TCG loot cards. "March of the Legion" was also the introduction of the Aldor and Scryer factions and brought in many demon type cards for you to add to your deck.
The TCG loot cards included with this expansion are as follows in ascending rarity: