Gone Fishin'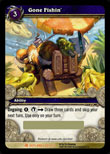 Card:
Gone Fishin'
Expansion:
Fires of Outland
Rarity:
1/242 booster packs
Fishing Chair
Binds when picked up

Use: Right Click to set up a comfy fishing chair. (5 Min Cooldown)
The second loot card from "Fires of Outland" happens to be a personal favorite. Gone Fishin' gives you the [Fishing Chair]... once redeemed, of course! The fishing chair is a chair that is usable wherever a mount is, even if it isn't near any water! Not only that, it can be used by twinks, so while you are guarding the flag, you can have a comfy chair to sit in as well. This loot card happens to cost anywhere in between $80 to $100 USD using the "Buy it Now!" system, though if you are looking to cast an open bid, expect to pay somewhere around $40 and $60 USD.
Purchase:
About the Fires of Outland Expansion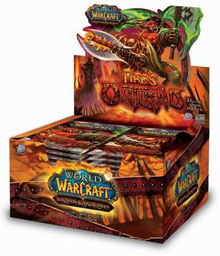 Releasing a mere 4 months after "Through the Dark Portal", The Fires of Outland expansion boasts a whopping 249 cards, including the 3 loots cards. The Fires of Outland featured new stunning artwork on its cards with the introduction of WoW celebrity Leeroy Jenkins. This expansion of the WoW TCG card series is the third installment.
The TCG loot cards that are native to The Fires of Outland are as follows, in order of ascending rarity: