Thunderhead Hippogryph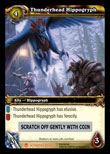 Card:
Thunderhead Hippogryph
Expansion:
Heroes of Azeroth
Rarity:
1/242 booster packs
Hippogryph Hatchling
Binds when picked up

Use: Teaches you how to summon this companion.
The middle rarest loot card from "Heroes of Azeroth" is the Thunderhead Hippogryph which redeems for the epic non-Combat pet Hippogryph Hatchling. Back when Landro Longshot made his first appearance on the docks of Booty Bay, a [Hippogryph Hatchling] pet could be seen accompanying Landro. Around $90 USD is the average price for this loot card, which is about a 70% rise since the introduction of pet related achievements in November 2008 last year.
Purchase: