Spurious Sarcophagus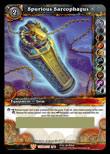 Card:
Spurious Sarcophagus
Expansion:
Tomb of the Forgotten
Rarity:
1/132 booster packs
Spurious Sarcophagus
Binds when picked up

Use: Climb into a sarcophagus for 5 min. (30 Min Cooldown)



The ancient people of Uldum prided themselves around a mystical object known as the sarcophagus. These objects were burial places of the greatest of Uldum's past. Now you have a chance to play dead and go out with style with your very own [Spurious Sarcophagus] from WoW Loot Cards. You don't need to be a Forsaken to enjoy all the fun of being dead, just stay incapacitated for up to five minutes with this item, the uncommon loot card from the Tomb of the Forgotten TCG expansion.
Purchase: