Vicious Grell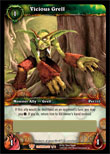 Card:
Vicious Grell
Expansion:
Crown of The Heavens
Rarity:
1/11 booster packs
Grell Moss
Binds when picked up
Unique

Use: Teaches you how to summon this companion.
With the common card of this expansion comes the Gregarious Grell! This non-combat mini-pet goes back to the roots of World of Warcraft with a Grell! This is the first of its kind as there is not another mini-pet with this look! This new ferocious pet will follow you throughout the grave dangers of Azeroth... and be your loyal traveling companion. You'll turn heads from all citizens wondering how you managed to befriend a Grell... and that's a story just between you and WoW Loot Cards.
Purchase: