Eye of the Legion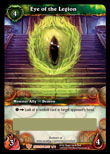 Card:
Eye of the Legion
Expansion:
War of the Ancients
Rarity:
1/11 booster packs
Eye of the Legion
Binds when picked up

Use: Teaches you how to summon this companion.
Are you ever jealous of how Warlocks can use their nifty Eye of Kilrogg to explore places that you cannot even get to see? Well now with the War of the Ancients TCG expansion's most common pet card it brings the [Eye of the Legion] pet! Fool the confused masses by thinking you're a warlock, or simply roam the world with an extra eye following you about to watch your back!
Purchase: