Landro's Gift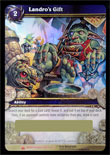 Card:
Landro's Gift
Expansion:
Wrathgate
Rarity:
1/11 booster packs
Landro's Gift Box
Binds when picked up

"NOTE: Not Guaranteed to Contain an Actual Mount"




<Right Click to Open>
Landro's Gift awards you with the [Landro's Gift Box] and is the least rare of the set. This card happens to give you a rare item from earlier loot cards. While it states on the item, "Not guaranteed to contain an ACTUAL MOUNT", it doesn't mean that it cannot contain them. Yes, when you have the Landro's Gift Box, you have a chance to obtain a rare TCG Loot Card mount from an earlier series, whether it is the [Spectral Tiger], the [X-51 Nether-Rocket] or even the [Riding Turtle]. But, please do not think you will get a mount every time, as it is a rare occasion to. Normally, the gift box contains either [Papa Hummel's Pet Biscuit], [Path of Cenarius], or the [Sandbox Tiger]. For bidding, the price starts at $4.25 USD and slowly rises, but if you'd like to use the "Buy It Now!" feature, the prices are around $8 USD. Good Luck!
Purchase:
| Buy It Now | S&H | Qty | Origin | Ending |
| --- | --- | --- | --- | --- |
| $68.24 USD | $0.00 | 2 / 255 | US | 11 days 17 hours |
| $69.92 USD | $3.88 | 2 / 2 | CA | 11 days 3 hours |
| $310.00 USD | $0.00 | 1 | US | 10 days 5 hours |
| Bids | S&H | Qty | Origin | Ending |
| $45.00 USD | $0.00 | 1 | US | 1 day 20 hours |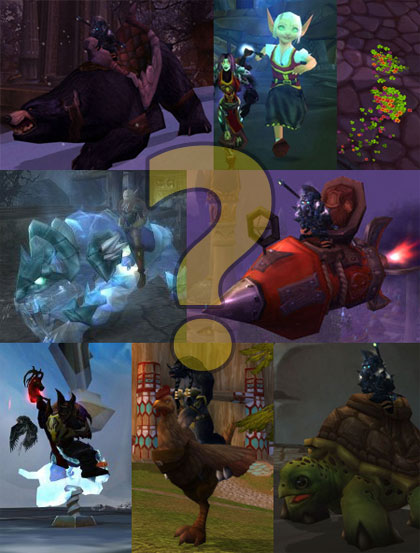 About the Wrathgate Expansion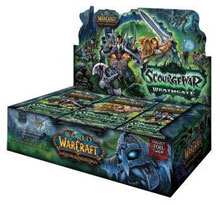 After the depature of Upper Deck from the WoW TCG series, Cryptozoic has taken over the WoW Trading Card Game. Introducing "Wrathgate" as its launch expansion, this new expansion marks the eleventh set in the franchise for Blizzard. The new cards feature a new look for the cards, as well as featuring a number of Warcraft lore heroes like Highlord Tirion Fording and many new Wrathgate materials that will allow you to craft new armor and weapons for your heroes to do battle with.
As with every new expansion from the WoW TCG series, they have also included 3 new loot cards with the expansion with increased "drop chances" out of the booster packs, which is a nice improvement over their predecessors. Up for grabs this time around we have the: