How WoW Loot Cards Work
Loot cards are rare versions of the World of Warcraft trading card game (TCG) cards which also contain a scratch-off code. These loot codes are entered into the World of Warcraft promotion website to redeem unique in-game items, such as a pets, mounts, tabards, and many other items. WoW loot cards are very rare and in high demand since they supply your character with items that will make others look twice and wonder where you got it from.
The best deals on these rare WoW loot cards are found on eBay. You will always find the latest and cheapest for bidding or purchase below.
All WoW Loot Cards by Expansion
About The Heroes of Azeroth Expansion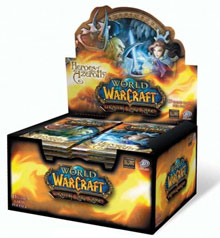 October 2006 won't just be remembered for the introduction of cross-realm battlegrounds and the intense, objective-based world PvP in Eastern Plaguelands and Silithus (just kidding), but it also marks the date that UpperDeck Entertainment (UDE) released the first installment of the WoW Trading Card Game (TCG). "Heroes of Azeroth" was an instant success. The first print run was sold out within days, and therefore UDE had to commission a second and much larger printing run. By combining an established, well-loved and rich lore of the WoW universe, with the wildly successful online game, UDE and Blizzard had found a winning combination.
One of the ongoing contributors to the WoW TCG success story are the randomly inserted loot cards. This article will focus on the first WoW TCG release Heroes of Azeroth, and its three loot cards in ascending rarity: