How WoW Loot Cards Work
Loot cards are rare versions of the World of Warcraft trading card game (TCG) cards which also contain a scratch-off code. These loot codes are entered into the World of Warcraft promotion website to redeem unique in-game items, such as a pets, mounts, tabards, and many other items. WoW loot cards are very rare and in high demand since they supply your character with items that will make others look twice and wonder where you got it from.
The best deals on these rare WoW loot cards are found on eBay. You will always find the latest and cheapest for bidding or purchase below.
All WoW Loot Cards by Expansion
About the War of the Elements Expansion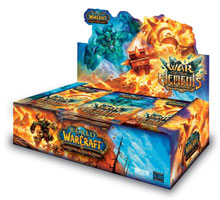 Released on April 26, 2011, the fourteenth set from the WoW TCG franchise from Cryptozoic's fourth successful TCG launch has brought the game past the Shattering and into the realm of the War of the Elements. The elements are in a fued, recruit new allies such as Neptulon the Tide Hunter, Al'Akir the Windlord, Therazane the Stonemother, and Ragnaros the Firelord to rule the elements with an iron hand. To help keep the iron hand pure the Bronze and Blue dragonflights have made an appearance with their leaders Nozdormu and Kalecgos.
As always, it has three new exciting loot cards: