How WoW Loot Cards Work
Loot cards are rare versions of the World of Warcraft trading card game (TCG) cards which also contain a scratch-off code. These loot codes are entered into the World of Warcraft promotion website to redeem unique in-game items, such as a pets, mounts, tabards, and many other items. WoW loot cards are very rare and in high demand since they supply your character with items that will make others look twice and wonder where you got it from.
The best deals on these rare WoW loot cards are found on eBay. You will always find the latest and cheapest for bidding or purchase below.
All WoW Loot Cards by Expansion
About the March of the Legion Expansion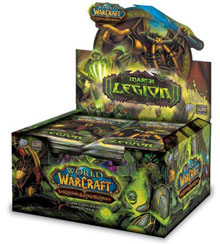 Releasing in December of 2007, the fourth installment to the WoW Trading Card Game is the "March of the Legion" expansion. Bringing to the game a total of 319 cards, hosting 18 new heroes, along with 205 commons and uncommon, it also has 18 rare cards and 16 epics along with the 3 TCG loot cards. "March of the Legion" was also the introduction of the Aldor and Scryer factions and brought in many demon type cards for you to add to your deck.
The TCG loot cards included with this expansion are as follows in ascending rarity: